The Vast team loves to work on updating brand designs. Eventually, every brand can use a little freshening up. Here's a little look at Sunwave Gas & Power's stationery update through its design phases.
What Our Client Communicated and The Teams Direction
A long-standing client recently obtained an energy company in the New England area. They felt it needed a more corporate feel. Currently, the brand has a more playful look through the use of bright colors and illustrations.
Our team agreed with the clients' assessment.
Stationary Update – Version 1
Here's the first business card version presented using the medium orange color in the sun logo mark. The deep blue and orange complement each other. Then bringing in a soft blue-gray will be our third color. An outline of the logo mark was placed on the back to be printed in spot UV over the company tagline. We suggested rounded corners to complement the logo, but as you will see later, the client wanted square corners.
Stationary Update – Version 2
The client loved the overall design but had a couple of minor changes they wanted to see. We simplified the contact information on the front of the business card and relocated the address. On the back kept the information to the bottom and made the tag line slightly smaller giving room for the website. Instead of rounded corners, the client opted for square.

Letterhead Design
Now that the client signed off on version 2, letterhead was designed. A brand design must be consistent through all forms of printing, signage, ads, and the website.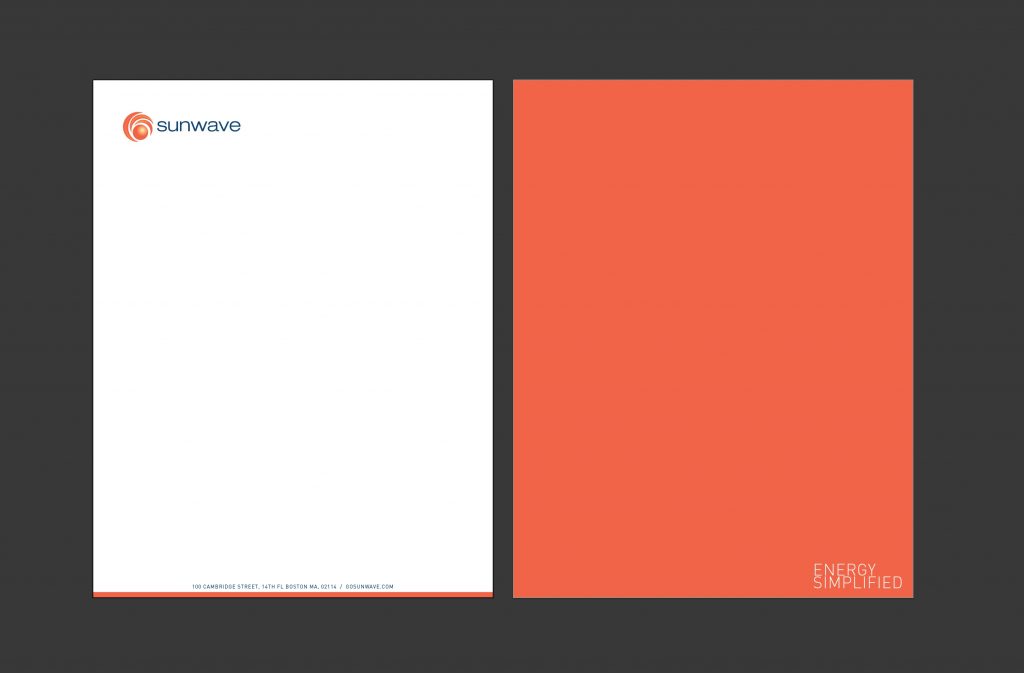 Branding Guidelines
A logo should never be distorted or changed in any way. The same is true of logo colors. Those are basic design rules we sadly see broken quite often. Your designer should supply you with files that can be used in ads, social media, printing, and web. Included you should receive the CMYK & RGB logo colors so that again your brand will stay consistent and recognizable.
We can't wait for the next phase of this project. Stayed tuned for further design developments.
Updated Envelope and Letterhead Design
These are the new stationery design proofs that are being created for the new updated branding for Sunwave.